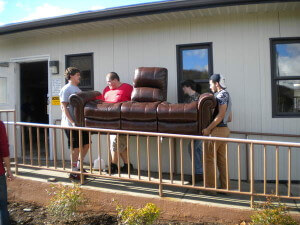 Central Haywood students listened to the Rev. Nick Honerkamp, senior pastor at New Covenant Church, Tuesday, Nov. 4, when he and an assistant, Andrew Holland, spoke to the entire school about the need for volunteers at the old Hazelwood prison to meet the deadline to open the Haywood Pathways Center by Nov. 15.
After he told everyone about the project, students and staff alike wanted to do their part. On Thursday, Nov. 6, almost 50 student and staff volunteers loaded a bus to travel to the center and offer assistance.
Many chores were waiting and everyone pitched in to work on the fencing, move furniture, assemble shelves, stock shelves, put together beds, paint or clean up and set up as needed.
The students experienced the spirit of helping their community and that is a true educational experience some will probably remember long into their future. Some of the students have expressed their desire to go back Saturday and help some more. Others hope to do volunteer their time after the center is up and running.
Honerkamp had told the students that a third of the 1,500 volunteers had been college aged or younger. CHHS students were eager to be part of this project too once they heard about it.
Helen Pollifrone, English teacher, who headed up the project, brought the idea up to Principal Jeff Haney and they agreed that this could be an important resource and opportunity for senior graduation projects.
"It was amazing to see everyone working together," said student Adrianna Carpenter.
Student Bethany Call was impressed they helped to open a place where people will have an opportunity to get their lives on track, and Cassie West agreed that it was good working for a place to give people a second chance.
Nathan Bartucca thought it was a great experience and a good help to the community and hoping the CHHS students can have more opportunities like this.
Upon return to school many students were dirty or disheveled and smeared with paint, but all were smiling and excited.
All in all, Central Haywood volunteers spent quality time together learning many important life lessons outside the classroom.
Visit www.haywoodpathwayscenter.org to learn about ways to contribute to the project.
Article provided by http://themountaineer.villagesoup.com/