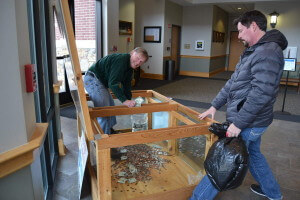 Over the past year, 14 volunteers placed donation jars at over 40 cooperating Haywood County businesses and other organizations in support of the new Haywood Pathways Center for the homeless. In addition, a large Plexiglas donation box was placed in the lobby of the Waynesville Police Department.
Although the donation jars have been removed, the donation box in the police station is still collecting funds. Since participation in this fundraiser was an all-volunteer effort, every penny raised was given to Pathways, Inc.
Over $1,700 was collected and donated to the Pathways Center.
Many thanks to the Waynesville Police and the organizations that supported this worthwhile effort:
A to Z Signs (also donated donation jar decals and signs)
Ace Hardware on Dellwood Rd
Affairs of the Heart
Ammons Drive Inn Restaurant
Bear's Den Antiques
Blue Mountain Chiropractic
Burr Studio
Cat in the Attic
Christmas is Everyday
City Bakery
Coffee Cup Cafe
Country Vittles Restaurant
Curl 'N Chat Salon
Dollar Store and More
Dr. Eric Morrison, D.D.S.
Eric's Fresh Fish Market
Ferguson's Supply
Frank's Up the River
Haywood Christian Ministry Thrift Store
Hazelwood Smokehouse
Hazelwood Tire and Alignment
J Creek Café
James Weaver Kirkpatrick Law Firm
Jiffy Convenience Store
Kanini's Restaurant
Kim's Pharmacy
Maggie Valley Biker Wear
Massie Furniture
Mike Sorrels
Pleasant Balsam Baptist Church
R/E Max Realtors
Robin Blu Gift Shop
Salon 212
Sam's Smart Shell Station
Shell Gas- Maggie Valley
State Employees Credit Union (donated coin counting services)
The Dog House
The Open Door (donated all administrative services)
The Mountaineer
United Community Bank
Waynesville Inn and Golf Resort
Waynesville Pharmacy
Waynesville Tire
Article written by: Mountaineer