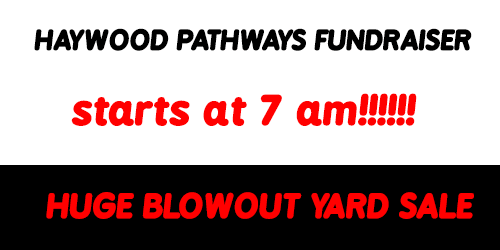 Haywood Pathways Center is having a Blowout Yard Sale on June 18, 2016 (rain date June 25, 2016) on the lawn in front of the County Detention Center on Brown Ave ( next to car wash)
from 7AM until ——.
You will not want to miss this opportunity to purchase gently used clothing and items for home or yard. Cash or check (with identification) only.
Haywood Pathways Center, a 501 ( c ) 3 nonprofit faith based organization, was opened in November 2014 to provide assistance to men and women who have been released from prison, are homeless and/or need a helping hand to find and follow a path that will lead them out of poverty—to employment, transportation and housing. Funds from the yard sale will be used to provide basic necessities for the clients, supplies needed to maintain the center and food for the community kitchen.